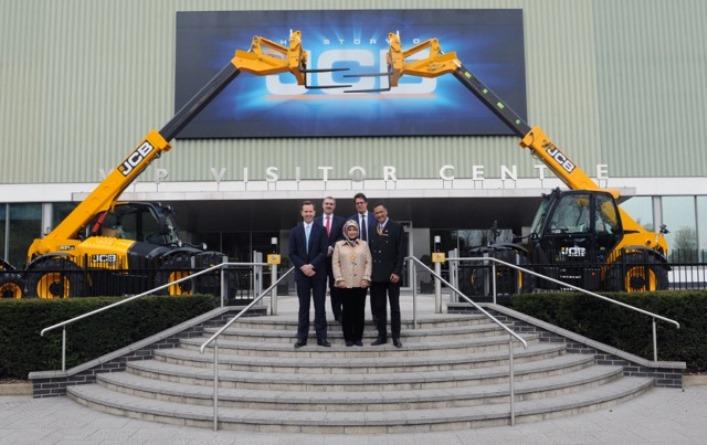 The collaboration between JCB and PT Airindo Sakti is able to provide quality construction tools with strong after-sales service for Java, Bali & Nusa Tenggara area.
JCB continues to expand its network and strengthen its market grip in Indonesia. The latest action of British construction machinery manufacturer is the appointment of PT Airindo Sakti as one of the authorized distributor of JCB for Java, Bali & Nusa Tenggara area. The cooperation agreement between the two companies was inaugurated on April 19, 2017. Khabar is pleased to present Rahadian Mahendra as President Director of PT Airindo Sakti when talking with Equipment Indonesia Magazine in his office located in Pasar Minggu area, South Jakarta, recently.
It is not without good reason why JCB chooses Airindo Sakti as one of its dealer in Indonesia. This company has for decades in the business of construction tools and has a wide network in various parts of Indonesia. The company also already has a good system in supplying products as well as providing after sales service.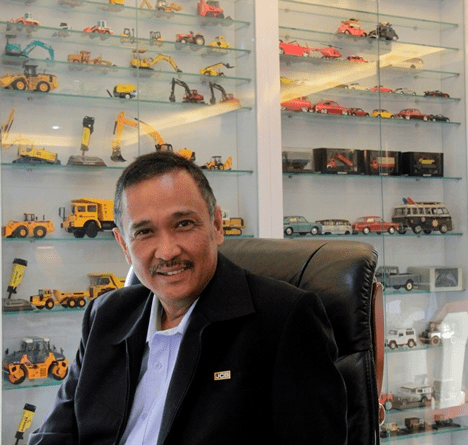 "We accept this JCB appointment as a challenge. We are determined to realize this trust as JCB has quality products, while we have good networking in Indonesia, especially in Java, Bali and Nusa Tenggara. I think this is a good chemistry, "said the man who is familiarly called Rahadian while smiling. He admitted that his party had hesitated with the appointment considering JCB is a global company with very strict standards in doing cooperation. What is worried is that the marketing done by Airindo does not run as expected of JCB.
"At first we had time to doubt whether we are able to market products that have a global reputation. JCB has manufacturing worldwide. In addition to its home country, the company's manufacturing facility is not just one or two, but five are scattered in various parts of the world namely India, United States, France and China, "he said while adding that JCB is a global company that already has a standard in supplying products and providing support to its partners. The market gap for JCB products in Indonesia is very promising. There are several target market targeted PT Airindo Sakti in marketing these machines forward. In principle, Airindo Sakti is ready to market all JCB products. However, according to Rahadian, the company wants to focus on the machines that are needed by the market. "We started with excavators, backhoe loaders, telehandlers, vibro and mini excavators. We do not want to run anywhere. We see the synergistic with the products we ageni, "he said. As is known, PT Airindo Sakti admires a variety of machines to meet the needs of various industries in the country. One of the heroes' product is Soosan brand hydraulic breaker which is recognized as market leader in this segment, According to Rahadian, by marketing machines that are synergistic to each other, these products will support and complement each other. He pointed out, among others, JCB excavators that can be paired with Soosan hydraulic breaker.
In addition to excavators, other JCB flagship products are backhoe loaders. This machine is perfect for handling infrastructure work in crowded and crowded urban areas. This machine is quite versatile because it can mutually attachment in accordance with the demands of work in the field. In addition, the mobility is agile because it uses wheels.
"If you use a mini excavator, there are little constraints from the side of the mobilization and maneuver, while if the backhoe loader live the road so it does not require a trailer for its mobilization. In terms of investment is also more profitable because the backhoe loader can use a variety of attachments, for example besides equipped with '6 in 1 bucket' which can be used for loading, grading, dozing, digging, back filling and lifting, also the backhoe paired attachments such as breakers, compaction, auger, and many others. That's why in the future Airindo will encourage and educate the market to use backhoe loader as a more efficient alternative to mini excavator, "he promoted.
In addition to the construction sector, backhoe loader machines are suitable to be applied in plantations. This tool can be used to dig (dig), flatten and displace the soil to collect the harvest. "Backhoe loader turned into a multifunction machine just by replacing its attachment," he assured.
Rahadian stressed that JCB has a strong base in the backhoe loader segment. "The history of JCB starts from a backhoe loader engine by modifying a tractor into a backhoe loader, which then becomes a market leader in the world," he explains why JCB backhoe loaders are so popular in the world.
PT Airindo Sakti will also introduce how the JCB telehandler machine works. Although this tool has been present in the country long enough, but the market is less developed as expected because they do not know how to apply it. In fact, in fact a lot of work that can be dihendel by this tool. To market telehandler, PT Airindo Sakti changed its sales method by doing more product demos so that customers saw how to use it. "We will provide facilities, then collect the customer to be given an explanation of what exactly the telehandler is and how to apply it. Or vice versa, we will visit the location of customers by bringing the tools to the jobsite so that they will see the telehandler work directly, "said Rahadian.
STRENGTHEN ASS
Rahadian said that one of the basic capital owned by PT Airindo Sakti in marketing JCB products is good after sales services (ASS). This can not be separated from the experience of this company's cooperation with leading manufacturers so far that is very strict service standards and concern with after-sales service. "Since 1982 our ASS standards are very high in accordance with the standards set by our principals. Because selling the tool may be only once, while after-sales service can last a lifetime. So, the key to the continuity of customer relationships is in ASS, "he assured. One proof of this company's readiness to provide after sales support is to re-invent JCB customers in the Java area to determine the total population of the units still in operation and the service needs they need. "We will go to JCB's customers, list the units they have and what services they need, as well as inform them that PT Airindo Sakti is a JCB dealer for Java area," explained Rahadian. JCB as principal, he continued, has stated his commitment to provide support to PT Airindo Sakti for spare parts investment, with a large and complete central warehouse in Singapore. From this side, Rahadian assess both have the same business philosophy. Success or failure of a brand depends on how the dealer's relationship with the principal. Rahadian rate, JCB does not mess with ASS because his team is very ready. "So related to spareparts need not worry, because they themselves already have their own depots who can serve customers at any time and can bring parts in a fast time."
JCB LIVELINK
The new dealer's readiness is underpinned by JCB's LiveLink monitoring system for position, condition and tool performance. JCB equips all units it sells with this device. "JCB LiveLink provides customers with ease and becomes the fastest way to ensure that the machines are well maintained and in good health without having to travel to various work locations to check the condition of each unit," Rahadian said.
The metrics used by JCB Livelink allow tool owners to more effectively manage their fleets and schedule maintenance schedules. This technology provides a quick notification of when a device should be serviced and if there are serious mechanical and electrical problems with the machines. The use of this technology ensures that any problems affecting JCB machines will be monitored and dealt with quickly so that these units are fully operational.
There are three important benefits of JCB LiveLink. First, monitor and alert the hours of machine operation accurately. By logging the hours of the instrument work accurately, this system ensures maintenance is done on time according to schedule. Submitting alerts keeps you in mind that they require routine maintenance in a simple and easy to use format.
Second, make a maintenance report that shows the service records that have been made to a machine, and it is vital to resell the unit for a good price.
Third, send alerts when a machine is experiencing acute problems outside of routine maintenance, delivered via website or SMS or e-mail. "All these steps are done JCB to build a new reputation. JCB wants to build a better image in the future, "said Rahadian.
Rahadian acknowledges the challenge of marketing JCB products. One of Airindo Sakti's important missions in the future is to change the market image if JCB machines are premium products that are expensive. The company wants to convince potential customers that JCB products are not expensive. This approach refers to the success of Airindo Sakti in marketing their previously well-known products, but its customers continue to increase.
"Actually, people Only look from a distance that JCB machines are expensive, when it needs to be seen again expensive in relation to what. Expensive compared to what. If expensive because the tool has advantages, good quality and spare parts easy, in fact the machine was so cheap, "he explained.
"We dare to hold the brand JCB because we believe this product is very good and this company is very concerned with the work and customernya. And this is so great PR Airindo Sakti to change the perception or image that is not good in the past to be something we should do. Maybe something has not been done in the past, well this is the moment for all that done. "
In addition, PT Airindo Sakti acknowledges that it has to work hard to improve the previous bad image of JCB products in Indonesia, especially those related to after sales service. To support the smoothness of this construction equipment business, PT Airindo Sakti is building a center warehouse in Java. "We do not want to market products that do not have service and spare parts. Because if the service does not exist, it will not be in line with the vision and mission of our company so far. "
"And most importantly, there's no way we can do something that we are not yet ready to do. So, we make sure that we ourselves are ready to market JCB. We feel this is something very interesting for the market, because the market will get another option they need to consider in running their projects, "he concluded.
original article has been published on: https://www.equipmentindonesiamagazine.com/airindo-sakti-jadi-authorized-distributor-jcb/3225/