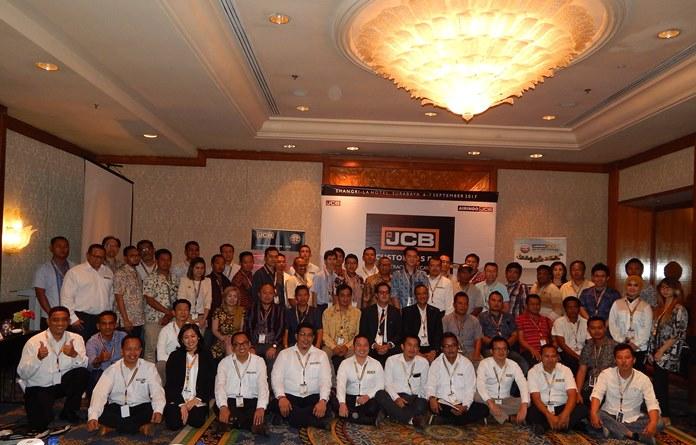 JCB dealers for Java, Bali and Nusa Tenggara, Airindo JCB, made an initial market break by gathering a number of customers and prospects to get closer to JCB products.
Airindo – JCB held "Airindo JCB Customer Day" for two days in Surabaya, 6-7 September 2017. The event was the beginning of a series of JCB products introduction activities to customers and prospective customers in Java, Bali to Nusa Tenggara. PT Airindo Sakti is the exclusive dealer of JCB machines for these areas and the 4th dealer of JCB in Indonesia. The customers and prospective customers who gathered this time came from areas around East Java, Bali and Nusa Tenggara.
Rahadian Mahendra, as the President Director of PT Airindo Sakti, said that JCB machine market potential is very big for Java, Bali to Nusa Tenggara region due to the rapid development of infrastructure, as well as quarry business. "JCB JS 205 SC excavator is designed specifically for construction applications, quarry to mine and has been tested as a reliable, fuel-efficient and durable engine," he said at the opening of this customer day event.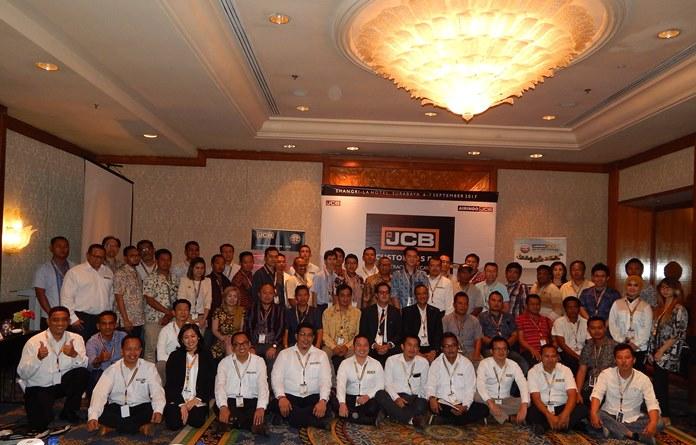 JCB has indeed hundreds of product that ranges globally. However, for the Indonesian market in general and Java, Bali to Nusa Tenggara in particular, Airindo JCB will focus on marketing 9 main products. "We started with excavator, backhoe loader, telehandler, vibro (compactor) and mini excavator. We do not want to run anywhere. We have to see the synergistic of the products, "he said when opening the event.
PT Airindo Sakti is an experienced heavy equipment / construction expert for decades which supplying various equipments to meet the needs of diverse industries in Indonesia. The company already has a wide business network in the area of ​​Java, Bali to Nusa Tenggara. One of the best-selling jagoannya product currently installed on the JCB excavator is the Soosan brand hydraulic breaker known as the market leader in this segment. "These products will support and complement each other," he said while promoting the synergy of excavators JCB and Soosan breaker for quarry work.
Tom Cornell, Managing Director of JCB for Southeast Asia, who also attended the customer day event mentioned Indonesia as JCB's most important market in Southeast Asia. "Indonesia is 42 percent of JCB's business in Southeast Asia. The population of Indonesia is overwhelming and still requires a lot of infrastructure development. JCB machines are needed here, "he said.
To prove it, continued Tom, JCB has appointed four exclusive dealers spread across large islands in order to make the Indonesian market more intensive. JCB will fully support the dealer's business activities by supplying quality products and providing the right and fast parts. In addition to ensuring spare parts supply to its dealers, JCB has a warehouse center in Changi, Singapore that is able to serve Indonesian customers 24 hours in seven days.
He explained that if the reservation is done before 12.00, the goods will be sent in the afternoon. But if ordered after lunch (after 12.00), then delivery is done on the next day. Not only that, JCB also provides a technical team of experts in the field to help solve customer problems in Indonesia. In addition to introducing the JCB product line marketed by Airindo JCB, the participants were invited to witness the live demonstration of Hydraulic Excavator JS 205 SC at the quarry site owned by a customer. In this location is shown the ability of two units of JS 205 SC excavator by using bucket and the other wearing Hydraulic Breaker Soosan.
JS 205 SC is a new generation JCB excavator targeting construction, quarry and mining sectors. This 20 ton class excavator has a large power sourced from Cummins Engine. Using a mechanical system, engine performance is not compromised with less clean fuel conditions. The way of treatment is easy because the key components that require routine maintenance are placed at a point that is easy to reach by standing beside the machine without using ladders or other tools. The cabin design gives operator comfort, such as air conditioning and anti-slip rubber pedals. If the operator does not require AC, all the glass (front and side) can be removed and the roof can be opened so the room is not stuffy.
JCB equips all its products with LiveLink, a telematics-based monitoring system that facilitates fleet management and monitoring of units and provides real-time information. This application of monitoring technology allows remote control of the fleet in the field while increasing the efficiency and uptime of the contractor. LiveLink also ensures device security.
Rahadian reminded that PT Airindo Sakti has experienced for decades marketing a variety of construction equipment, including excavators. The company has business network in various cities in Java, Bali and Nusa Tenggara region, so as to provide ease in providing various products and supply of spare parts and services to the customers.
original article has been published on: https://www.equipmentindonesiamagazine.com/airindo-jcb-gelar-customer-day-perdana/3349/