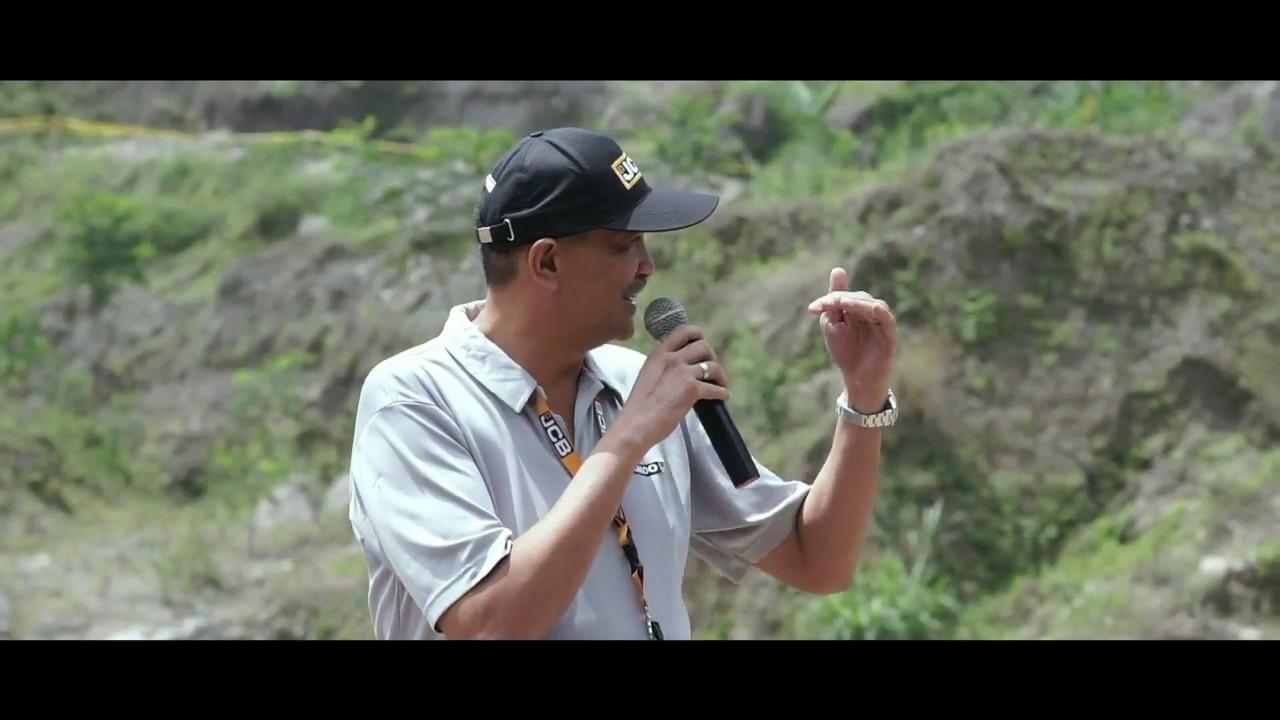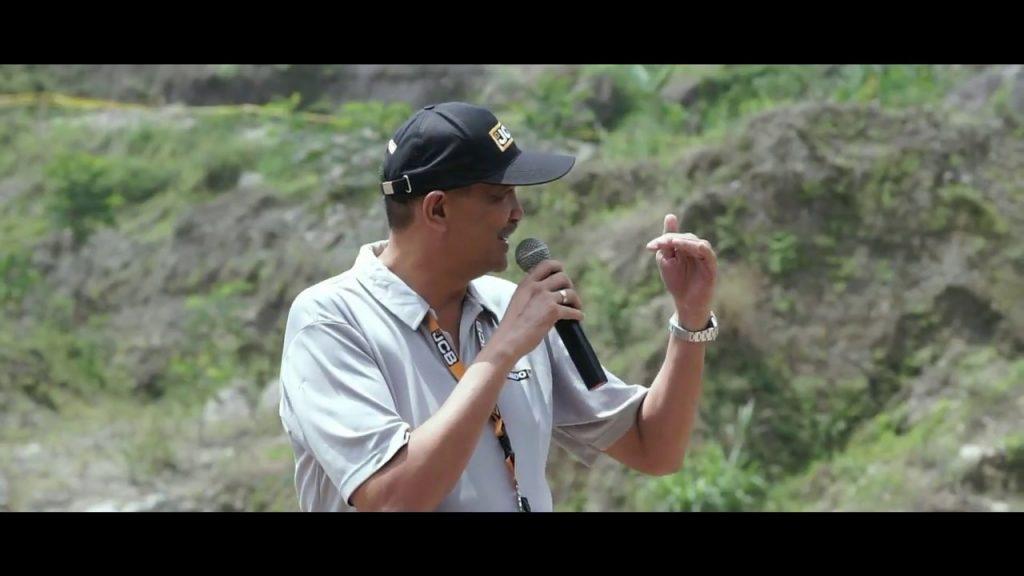 JCB Contributed To The Planting Of 5000 Eucalyptus Tree Seedlings In The Reclaimed Mining Area.
Airindo – JCB took part in reforestation activities by contributing to planting 500 eucalyptus seedlings in the reclaimed mining area, which was conducted at the site of a former stone quarry in Klaten, Central Java, on Thursday (5/10/2017). The event was attended by Tom Cornell, Managing Director of JCB for Southeast Asia, and Rahdian Mahendra as President Director of PT Airindo Sakti.
This greening activity was conducted simultaneously with "JCB Customer's Day" event which was attended by JCB's customers from Central Java and Yogyakarta. Held for two days, 4-5 October 2017, on the first day the participants gathered at Hyatt Regency Hotel, Yogyakarta, to attend the presentation of products and services from Airindo – JCB team. The next day, they were taken to a stone mining site in Klaten area to witness the action of two units of JS205 SC / LC tracked excavator. They also have the opportunity to test the ability of these tools directly in the quarry sector, both for seeding and for rock breaking.
Rahadian Mahendra explained that JS205 excavator is a 20 ton excavator which design is very suitable with work field conditions in Indonesia. "In addition to the heavy work field, fuel quality in Indonesia until now also known less well. However, engine excavator is not problematic with the condition. Even the use of fuel is quite efficient," he said when opening the event "Airindo – JCB Customer's Day" is. Therefore, he considered the greening activities are in line with the JS205 design that carries the concept of go green.
David Purba, JCB Business Manager Dealer for Java area, explains that JS205 uses manual engine (mechanical engine in-line) that has been tested by using less clean diesel. As a result, the engine is not problematic at all. Especially for excavator JCB class 20 tons, the driving force is Cummins Engin (6BT 5.9 C) with manual system (mechanical), 140 HP, Tier 0. This engine uses a computerized control system (non-computerized control system).
In addition, David added, the frame design is robust using components from industry-leading and conforming to global standards. In addition to engine, this excavator uses the main components that are widely used by excavators that are already popular in Indonesia, such as Kawasaki pumps, thus providing ease in operation and service.
As with other JCB products, the JS205 tracked excavator is designed to provide ease of service and maintenance. "Service intervals and maintenance are long. Components that require routine service are easily accessible. Lubrication system is done every 1000 hours, so it saves cost and time. Compare with competitors' products that must be greased every 250 or 500 hours, "David explained, plus a spare parts warranty of up to 4000 hours or two years.
Fatoni, an Airindo customer – JCB from Blora, Central Java, who recently bought two JS 205 units, recognizes the reliability of these JCB excavators. Purchased since last July and immediately step on the gas operated on his quarry quarry, until now these machines have never faced any problems. "Performance and conditions are still as usual, never fussy, and fuel consumption is quite efficient," he told Equipment Indonesia. Satisfied with the performance of existing units pushing Fatoni to strengthen its fleet by adding two more JS205 units.
David said that JCB JS205 excavator was first launched in 2013. This tool is developed specifically for markets in Asian countries, the Middle East and Latin America. "The JS205 excavator is easy to operate and maintain, as well as more efficient operational costs. The engine has been designed to do more heavy work than ever before and is suitable for customers who operate it on construction projects under diverse environmental conditions, "he explained about the concept of the excavator design.
Excavator JCB JS205 provides two ways (mode) of work, namely Power (P) and Economy (E). Economy mode option is enabled to save fuel consumption with optimum productivity. While Power mode is used for heavy operations that require the use of strong engine power and strong pump flow for more productive operations. In addition, it also features auto idler feature to save fuel usage during engine idle at high speed.
LiveLink Monitoring Technology
To improve performance and ensure security during operations, JCB equips these products with LiveLink, a telematics-based machine monitoring system. LiveLink is an innovative software system that lets customers manage JCB machines remotely – online, via email or mobile phone. Thanks to the application of this monitoring technology, customers can access anything from machine signals and historical usage information, with all data stored in a secure data center.
How does it work? As explained Warman Suhaya, Service Manager of JCB Indonesia, JCB LiveLink uses satellite and cellular technology, and is compatible with most JCB machines. "JCB dealers can access information via internet connection, because LiveLink computers are installed on JCB units," he explained.
LiveLink collects various information from a number of sensors. Then, this information is sent, using mobile communication technology, to a secure JCB data center. This machine management information is then displayed to users via the LiveLink website, via email, or by phone.
In addition to allowing JCB dealers to monitor customer units and ensure timely service, the benefits of this machine monitoring system include maintenance reporting, critical machine health warnings, real-time location data, and geofencing alerts. "Efforts to improve machine monitoring and security are part of JCB's efforts to ensure owners of protected equipment, while providing customers unparalleled customer support," Warman said of the benefits of this monitoring technology.
JCB LiveLink is recognized as an important breakthrough in this industry. This technology makes fleet management easier, providing real-time information that enables complete control from afar via a PC or smartphone – while improving efficiency and increasing uptime. "It's crucial to know where your machines are and whether they're safe or not. The JCB LiveLink security package provides signals while machines are on the move and also provides information on how these units are maintained, "Warman added.
LiveLink allows planned maintenance schedules in advance and provides quick notifications when a service is needed, and sends an emergency signal in case of serious mechanical or electrical problems. LiveLink features substantially reduce downtime and ensure machines operate in top condition.
JCB understands everyday challenges faced by customers, and this is the reason why this manufacturer makes machines equipped with LiveLink service solutions. "JCB LiveLink service solution demonstrates JCB's commitment with our support as dealers for Java, Bali to Nusa Tenggara to serve our customers," Rahdian Mahendra concluded.
PT Airindo Sakti is an exclusive JCB dealer for the regions of Java, Bali to Nusa Tenggara and becomes the 4th dealer of JCB in the country. The company is one of the most experienced heavy equipment / construction players for decades by supplying various equipments to meet the diverse needs of industries in Indonesia. Airindo Sakti already has a wide business network in the area of Java, Bali to Nusa Tenggara. One of its ideal flagship product installed on the JCB JS205 excavator is the Soosan brand hydraulic breaker that becomes the market leader in this segment.
original article has been published on: https://www.equipmentindonesiamagazine.com/airindo-jcb-go-green-2/3695/